Welcome New Students!
Orientation was held in person on Tuesday, May 16, from 5 – 6PM for Biological Sciences strand and Thursday, May 18, from 5 – 6 PM for Computational Sciences & Engineering strands.
New Student Orientation – Links to Recordings & Important Documents
Important Documents:
Technology Information:  student email, PowerSchool, Canvas   Note:  PowerSchool and Canvas cannot be accessed until mid-August.  Please wait until closer to the beginning of the school year to register.
**VPT Testing will be hosted at GSST on May 31.  Please see New Student Checklist for details.
Biological Strand Information

Computational Science Strand Information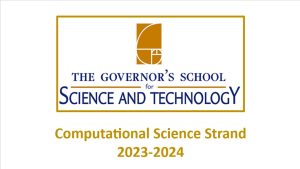 Engineering Physics Strand Information