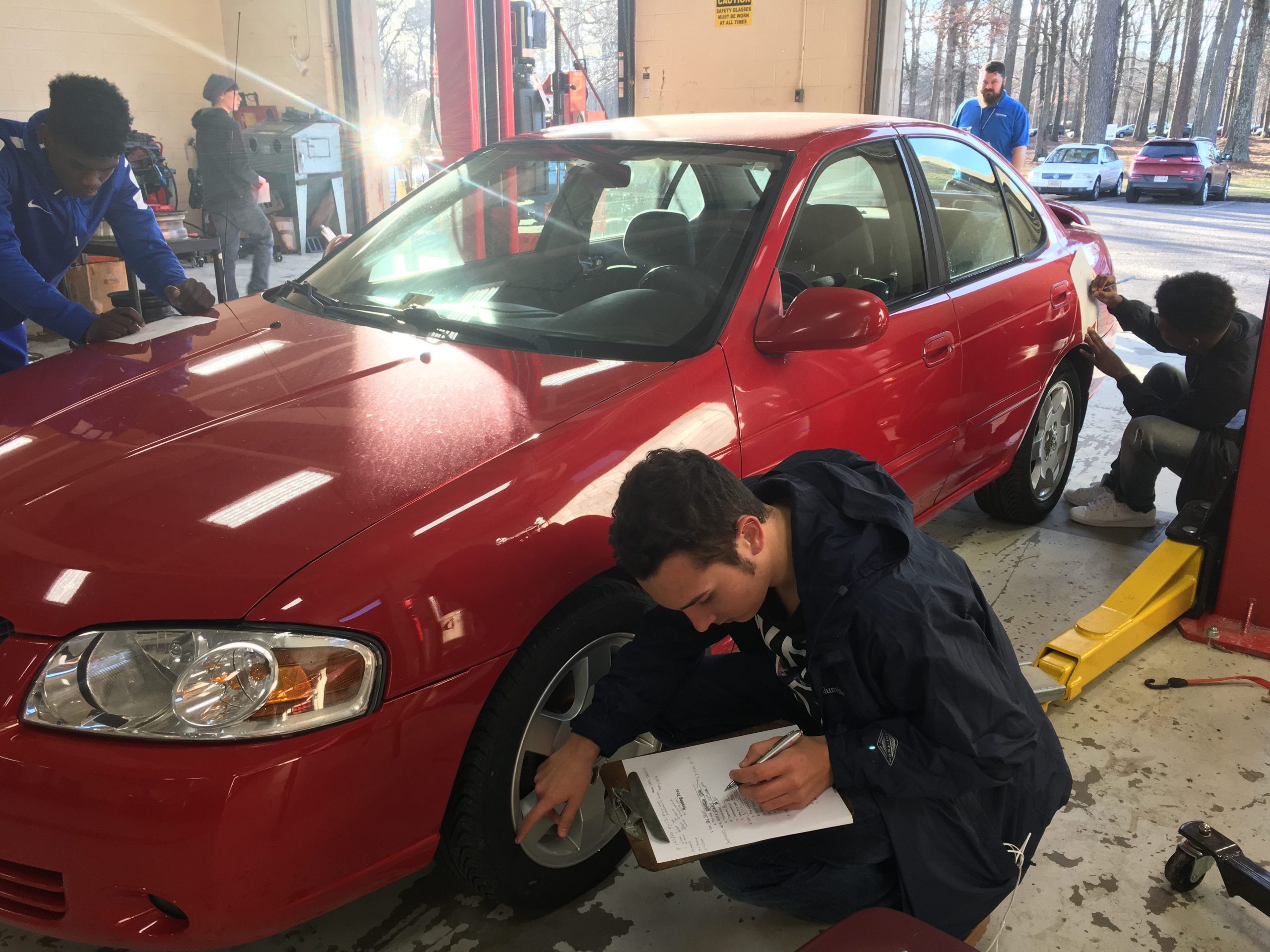 Auto Body Technology I & II – #8676/#8677
Auto Collision Syllabus
Auto Collision Pacing Guide
Auto Collision Flyer
ABOUT:
National and State employment growth rate is between 9% and 13%
Prepares in the use of the latest technologies and equipment
Provides practical hands-on experiences and students allowed to work on personal
Students become familiar with the djfvboeahrguofinishes, from single-stage to multi-stage finishes
Selected students may be eligible for work experiences at local repair facilities
Successful students may be invited to return for Auto Collision Repair and Refinishing III

Two year course
STUDENTS STUDY:
Installation of vehicle parts and accessories
Preparation of compounds and solution
Structural Repair
Painting and Refinishing
Damage Analysis
Estimating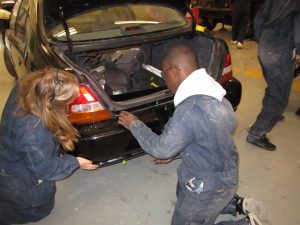 PREREQUISITES:
Good Attendance and Good Behavior
Completed 10th grade English with a grade of "C" or better
SPECIAL CONSIDERATIONS:
This course is not recommended for students with respiratory or allergy problems. Students will be required to purchase/wear appropriate clothing and safety equipment. Also may require heavy lifting, exposure to dust, chemicals, and physical activity.
CAMPUS LOCATION:
Butler Farm, Hampton
SESSIONS:
A.M. and P.M.
CLASS SIZE:
20 students per AM and PM class.
CREDENTIALS:
National Occupational Competency Testing Institute (NOCTI )Certificate, and Automotive Service Excellence (ASE)
STUDENT ORGANIZATIONS: Skills USA
PROGRAM FEES
Workbook – $20.00
Kit – $65.00
Student Organization Fee – $17.00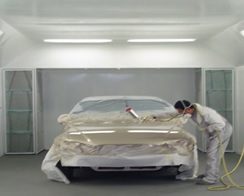 INSTRUCTOR:
Scott Harrell scott.harrell@nhrec.org 757-766-1100 ext 3347
BIO:
Industry Conference on Auto Collision Repair (ICAR) Instructor
Automotive Service Excellence (ASE) Certified
Axalta Coating Systems
3M Manufacturing Company
28 years Experience
CAREER OPPORTUNITIES:
Detailer
Chief Frame machine
Auto Body & Paint Supply Store
Refinishing Specialist and Assistant
Automotive Graphics Specialist
Claims Adjuster/Estimator
Frame Specialist Assistant
Parts Specialist and Assistant
Auto Body Repair and Restoration
Painter's Assistant/Refinishing
Average Salary Range: $23,500-$48,650
POST-SECONDARY PARTNERS:

Tidewater Community College (TCC)
BUSINESS PARTNERS:
Caliber Collision
Priority Collision Center
Maaco 
Suttle Collision Center
Casey Collision Center
RESOURCES:
Auto Collision Repair and Refinishing
Industry Conference on Auto Collision Repair (ICAR)
Virginia Department of Education (VDOE)