MEDICAL ASSISTANT – #8345/#8346

 Medical Assistant Syllabus
Medical Assistant Pacing Guide
Medical Assistant Flyer
ABOUT:
Introductory one-year course that prepares students to assist physicians by performing functions related to both businesses administration and clinical duties of a medical office
Consists of a mix of academic theory, hands-on, and simulated learning
Engage in clinical experiences within the surrounding communities health care facilities
Bureau of Labor Statistics predicts a job growth of 23% from 2014-2024 (much faster than average)
STUDENTS STUDY:
Insurance reporting
Office accounting
Medical records
Medical Transcription
Ethics and legal issues
Routine laboratory procedures
Professional workplace behaviors
Preparing patients for examination and treatment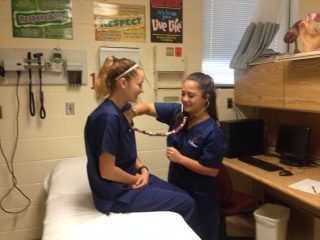 PREREQUISITES:
Completed Biology with a grade of "B" or better
Medical Terminology (helpful)
Able to independently lift a minimum of 25 lbs
CAMPUS LOCATION: Butler Farm, Hampton
SESSIONS: A.M and P.M
CLASS SIZE: 20 per session
CREDENTIALS:
American Heart Association Healthcare Provider CPR
American Heart Association Heartsaver First Aid
National Occupations Credentialing Training Institute Certification (NOCTI)
National Clinical Medical Assistant Certification – optional

STUDENT ORGANIZATIONS: Skills USA or Health Occupations Students of America (HOSA)
| | |
| --- | --- |
| Program Fees:  | |
| CPR/BLS | $60.00 |
| Pin | $15.00 |
| Criminal Background Check | $20.00 |
| Healthcare Kit | $70.00 |
| Workbook | $50.00 |
| Student Organization Fee | $17.00 |
| **Optional Certification** | |
| CCMA Cert. Exam w/Practice Test | $230.00 |
| ** Uniform, TB test, & Flu shot must be purchased separately** | |
INSTRUCTOR: Kathy Whitehead RN, MSN, MHSM, Kathy.whitehead@nhrec.org
757-766-1100 ext 3336
BIO:
Registered Nurse, Masters of Nursing in Education, Masters Health Services Management
Experience: over 36 yrs of healthcare experience in the clinical and administrative duties for
both acute care and outpatient facilities.
CAREER OPPORTUNITIES:
162,900 Additional Job between 2012-2022 according to Bureau of Labor Statistics
Job Outlook, 2012-22-The Projected growth is 29% for Medical Assistants. This is a greater percent change in employment from 2012 to 2022. Then average growth rate for all occupations is 11 percent.
BUSINESS PARTNERS:
Hampton City Schools
Newport News Schools
Riverside Health System
Heart and Soul Assisted Living Facility
Individual Physician Offices
RESOURCES:
VDOE
CTE Resource Center – VERSO