.MEDICAL ASSISTANT – #8345/#8346

 Medical Assistant Syllabus
Medical Assistant Pacing Guide
Medical Assistant Flyer
ABOUT:
Introductory one-year course that prepares students to assist physicians by performing functions related to both businesses administration and clinical duties of a medical office
Consists of a mix of academic theory, hands-on, and simulated learning
Engage in clinical experiences within the surrounding communities health care facilities
Bureau of Labor Statistics predicts a job growth of 23% from 2014-2024 (much faster than average)
STUDENTS STUDY:
Insurance reporting
Office accounting
Medical records
Medical Transcription
Ethics and legal issues
Routine laboratory procedures
Professional workplace behaviors
Preparing patients for examination and treatment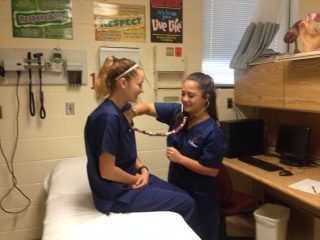 PREREQUISITES:
Completed Biology with a grade of "B" or better
Medical Terminology (helpful)
Able to independently lift a minimum of 25 lbs.
CAMPUS LOCATION: Butler Farm, Hampton
SESSIONS: A.M. and P.M.
CLASS SIZE: 20 per session
CREDENTIALS:
American Heart Association Healthcare Provider CPR
American Heart Association Heartsaver First Aid
National Occupations Credentialing Training Institute Certification (NOCTI)
National Clinical Medical Assistant Certification – optional

STUDENT ORGANIZATIONS: Skills USA or Health Occupations Students of America (HOSA)
| | |
| --- | --- |
| Program Fees:  |   |
| CPR/BLS | $60.00 |
| Pin | $15.00 |
| Criminal Background Check | $20.00 |
| Healthcare Kit | $70.00 |
| Workbook | $50.00 |
| Student Organization Fee | $17.00 |
| **Optional Certification** |   |
| CCMA Cert. Exam w/Practice Test | $230.00 |
| ** Uniform, TB test, & Flu shot must be purchased separately** |   |
INSTRUCTOR:  Mary Harrell  CMA, CCMA, Pbt, CPT, CPI mary.harrell@nhrec.org
757-766-1100 ext. 3336
BIO:

Mary Harrell is an Allied Health educator who is determined to have a positive impact on the healthcare profession. By increasing the quality and standards of training students to a higher level of proficiency, professionalism in Medical Assisting will only increase. As a 30-year veteran in medical assisting and 10-year veteran in teaching, Mary believes everyone deserves excellent health care and as educators, it is our duty to begin with an individual's educational training and ignite a passion for the profession.
In 1993, Mary graduated summa cum laude from UDS in Long Island, NY as an AAMA Certified Medical Assistant. She has traveled throughout the United States on contractual assignments and has also been employed by world renowned institutions, i.e., John Hopkins Hospital, Grady Memorial Hospital, The National Institutes of Health. These experiences has allowed her to gain optimal proficiency with diverse populations and healthcare scenarios. Currently she is planning to embark on enhancing the skillset of our future Medical Assistants from a high school population.
Mary is certified in Medical Assisting, CPR Instructor, Phlebotomy,  IV Therapy, and Allied Health Instructor. While teaching Medical Assisting at Centura College, Mary re-entered school, graduated  summa cum laude, and gained an associate degree in the Clinical Concepts of Medical Assisting.
When she is not creating new lesson plans or brainstorming new teaching strategies, Mary enjoys cooking and spending quality time with friends and family.
CAREER OPPORTUNITIES:
162,900 Additional Job between 2012-2022 according to Bureau of Labor Statistics
Job Outlook, 2012-22-The Projected growth is 29% for Medical Assistants. This is a greater percent change in employment from 2012 to 2022. Then average growth rate for all occupations is 11 percent.
BUSINESS PARTNERS:
Hampton City Schools
Newport News Schools
Riverside Health System
Heart and Soul Assisted Living Facility
Individual Physician Offices
RESOURCES:
VDOE
CTE Resource Center – VERSO