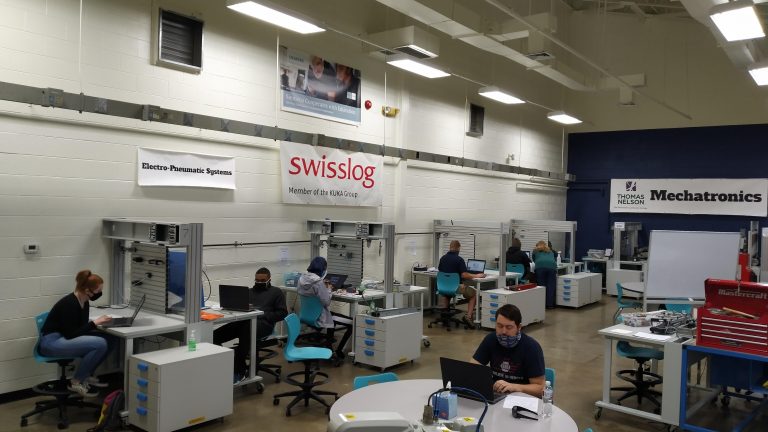 MECHATRONICS – #8554/#8555/#8556
ABOUT:
Special Opportunity limited to 16 students: TNCC Mechatronics program taught at NHREC Butler Farm Campus.
Students earn 22 dual enrollment credits (free), College Certificate of Studies while earning high school diploma, and Siemen Certification.
Mechatronics prepares students for advanced mechanical/electrical industry technician jobs that design, install, maintain, repair, or troubleshoot manufacturing systems.
Salary is $36,000 – $40,000. High demand high growth employment (16% growth to 2024) with Cannon North America and other manufacturing companies.
This is a one year (two semester course)
STUDENTS STUDY: 
Engineering Design
Electronic Circuits
Robotics Programming
Materials & Processes
Fluid Mechanics
Pneumatics and Hydraulics
Programmable Logic Controls
PREREQUISITES: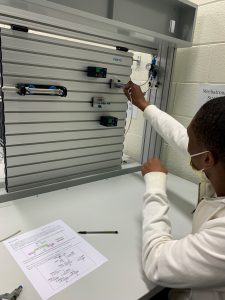 The Mechatronics course is dual enrolled with Virginia Peninsula Community College (VPCC) for 22 credits and students are required by Virginia's Community Colleges to take the VPCC English and Math placement test to be considered for acceptance.
Excellent attendance record
Proficient in reading and comprehending technical resources and materials at a college level
Completed Algebra I with a "B" or better
GPA of a 3.0 or above on a 4.0 scale
SPECIAL CONSIDERATIONS:  Students will be required to do tool training which will exposure them to lifting and handling metal on various occasions. Students will learn to solder and use special chemicals to help clean surface area. Students will be asked to compete in a district competition if they win the classroom competition. Districts may be out of the school building and are primarily on a Saturday.
CAMPUS LOCATION:  Butler Farm, Hampton, VA
SESSIONS:  P.M. Only
CLASS SIZE:   16 students
DUAL ENROLLMENT: 22 credits  (VPCC)
CREDENTIALS:  
National Occupational Competency Testing Institute (NOCTI)
Siemens Level 1 Mechatronics Systems Certification
STUDENT ORGANIZATIONS:  Skills USA
| | |
| --- | --- |
| Program Fees:  |   |
| Uniform Shirt | $30.00 |
| Student Organization Fee | $17.00 |
INSTRUCTOR:  The Mechatronics program consists of 8 different courses which are taught by various different TNCC instructors.
CAREER OPPORTUNITIES:
Mechatronics Technician
Industrial Maintenance
Manufacturing Production Technician
Mechatronics Engineer

Career

State Employment Growth

10 year projection

2015 National Median Salary
Industrial Engineer
10%
$83,470
Industrial Engineering  Technician
21%
$53,780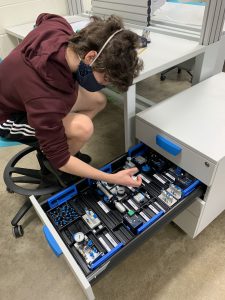 BUSINESS PARTNERS:

Canon Inc. of Virginia
Muhlbauer Inc 
Liebherr
Newport News Shipbuilding
POSTSECONDARY PARTNERS:
Virginia Peninsula Community College (VPCC)
RESOURCES:
U.S. Bureau of Labor Statistics